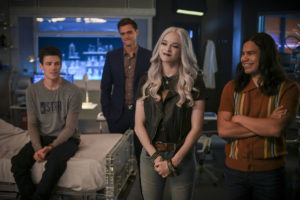 Danielle Panabaker is "eating for two"… and by "two" we don't mean the individual personalities of Caitlin Snow and Killer Frost.
People has confirmed that Danielle Panabaker is pregnant with her first child, with husband Hayes Robbins. The child is due to arrive in Spring 2020.
We do not know if this will affect her role on The Flash or if it will be something that also happens with Caitlin or Killer Frost, but of course Crisis on Infinite Earths could bring all kinds of changes. If anything, it could mean a short absence for the character, unless "Spring 2020" happens after filming for Season 6 has completed.
Our congratulations to Danielle on your upcoming new arrival!
View this post on Instagram