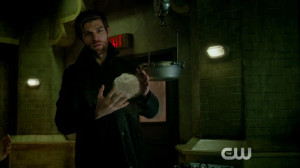 Mark Mardon (Liam McIntyre) is alive and he's a "Weather Wizard" just like his brother… and in a clip from this Tuesday's Flash, he's going to be causing trouble in a morgue.
Thanks to Mr. Video, we have screen captures from a preview clip that shows this. As far as we know, the clip itself isn't online yet, but we assume it will be very soon. As always, if you like the caps please just link to FlashTVNews rather than copying elsewhere. Thanks!
The Flash returns with new episodes Tuesday, March 17 on The CW.