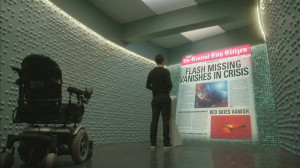 On the May 24 episode of The Flash, it's time to go through all of this all over again… and this time, the Rogues are around and causing trouble.
"Rogue Time" is the name of the episode, and it turns whatever we saw in "Out Of Time" on its ear. Thanks to Mr. Video, we have some screen captures from the extended promo trailer for "Rogue Time," and those caps include the awesome shot of Harrison Wells – or should we call him Eobard Thawne now? – to your right.
As always, if you like the caps, please just link to FlashTVNews rather than copying elsewhere. Thanks!