Candice Patton plays Iris West in The CW's upcoming Flash television series, which premieres on Tuesday, October 7.
We participated in a roundtable interview with her, where she talked about Iris West's curiosity, people keeping secrets, and more. Be warned, spoilers for the Flash pilot are discussed: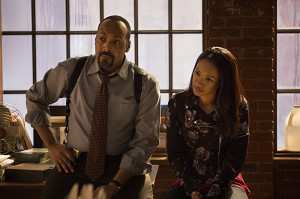 "She's extremely curious," Candice says about her character, while hinting at where Iris will go next. "I mean, the thing about Iris is she's studying journalism, and just innately, she's an inquisitive, curious person. She's curious about everything. She's curious about Barry, and why he's changing, and why he's always late, and 'where have you been,' and what's going on. She's hearing about this red streak in Central City, and it's developing her love of journalism and reporting, and I think that's going to develop this season, and I'm excited about playing that," she says.
Is Iris on to Barry and his secret? "He's not a great liar, and I think Iris, having grown up with him, she knows him like the back of her hand, so I think she knows something is off with Barry, but I don't think she's made the connection that Barry is The Flash. I think we're going to have to take time to get to that point where she's figured that out. She's smart, but she's not that smart. Not yet, anyway," Candice tells us.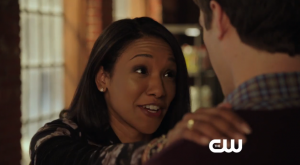 A series like The Flash is full of secrets, and even Candice doesn't know completely where Iris' future will go. "I don't even know too much about my character and where they're going with it. I don't think any of us do, for the most part, and I kind of like it, because I feel like I'm going on the journey with the fans. I'm figuring it out as they're figuring it out. Right now, Iris is the girl next door. It'll be interesting to see how her relationship with Barry changes, because he's been keeping this secret from her, and that's not something that they do. They tell each other everything, and I think for her to find out that he's been lying to her – I think that's going to cause a lot of tension between their family," she says.
With all that said, fans of the DC comic books know that Iris West has a famous nephew. Does that mean Iris has a sibling that could be Wally West's father? "I know some things, but we'll leave it at that," she teases.
The Flash premieres October 7 on The CW.