WARNING: Spoilers for Hour Three of Crisis on Infinite Earths are being discussed within.
When the third chapter of Crisis on Infinite Earths aired, we saw the heroic sacrifice of John Wesley Shipp's Barry Allen, the Flash of Earth-90, on the prophecised December 10 date. So Grant Gustin's Barry is free and clear… right?
Possibly not.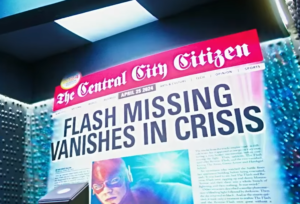 Now, a revised history could have already changed that newspaper that first was teased in the premiere episode of The Flash back in 2014. But what if it hasn't — and it's still Barry Allen — because when Crisis on Infinite Earths is over, Barry Allen (Grant Gustin) is still missing?
Here's what we know:
At a press event prior to Crisis, Marc Guggenheim teased that Barry does something that will have a big effect for the rest of The Flash Season 6. "During the Crisis, Barry will do something that is very significant that will have ramifications for the remainder of Season 6 of Flash," Guggenheim said, as the series showrunner Eric Wallace was not present for that particular press event.
We also know that Keiynan Londsale (Wally/Kid Flash) will be back for a few episodes after Crisis, despite his character's seeming doom in the Crisis on Infinite Earths tie-in comic.
Often times, The Flash has given Grant Gustin some well-deserved time off following a crossover, doing a few episodes with some of his supporting cast.
There's no doubt Grant Gustin and The Flash we all know and love will not be missing for long, if he's missing at all. Maybe he even just fakes a disappearance. But if he still vanishes in Crisis… we can't say we haven't been warned.
Preview images from Hour Four of Crisis on Infinite Earths can be found here.