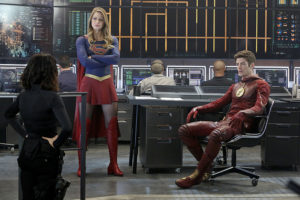 Grant Gustin appears as The Flash on the Monday, March 28 episode of Supergirl on CBS, and today, CBS has released some preview images!
The episode reunites Grant with his Glee co-star Melissa Benoist (even though they rarely had screen time together on the show). Melissa, of course, plays Supergirl on the CBS series which you can read more about at KryptonSite.
You can check them all out below.
CBS also released a teaser trailer which you can see here. Don't miss the crossover, and don't forget The Flash himself is back March 22 with "Trajectory." "Trajectory" pics can be found here.
SUPERGIRL
Picture 2 of 19
"Worlds Finest" -- Kara (Melissa Benoist, left) gains a new ally when the lightning-fast superhero The Flash (Grant Gustin, right) suddenly appears from an alternate universe and helps Kara battle Siobhan, aka Silver Banshee, and Livewire in exchange for her help in finding a way to return him home, on SUPERGIRL, Monday, March 28 (8:00-9:00 PM, ET/PT) on the CBS Television Network. Photo: Michael Yarish/Warner Bros. Entertainment Inc. © 2016 WBEI. All rights reserved.