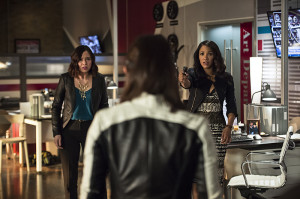 Best Guest Star: Malese Jow (Linda Park/Dr. Light)
Another actor who got to play their character and a doppelganger, Malese Jow was a welcome visitor in her return appearance as Linda Park for Season 2, with 21% of the vote.
#2 honors go to Teddy Sears, whose two sides of "Jay Garrick" are even better when you know where his story will end. Such a great job and a great guest star. He had 15%.
Third place for "Best Guest Star" is Victor Garber aka Martin Stein. Who doesn't love Victor Garber? SpyDaddy for life.
Last year's winners: Wentworth Miller & Mark Hamill