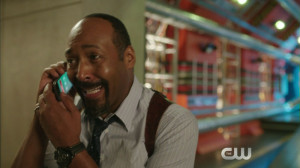 Although it all starts with a phone call between Joe and Patty, it seems like a lot of the Flash cast appears in the preview clip for the next episode of The Flash.
While we don't have the video clip itself yet, thanks to Mr. Video, we do have screen captures. Enjoy… and once the clip itself is out, we'll put the word out.
But first, enjoy these screen captures from "Gorilla Warfare." Official images can be found here.