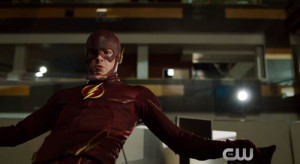 Last night, The CW ran a trailer that included clips from multiple upcoming episodes of The Flash… you can find that here… but as we have on GreenArrowTV with Arrow, we also like to share some screen captures whenever possible, so you can see things in their still frame glory.
With a show like The Flash, where the character is always in motion, that can get a little tricky, but we pulled it off!
Here are screencaps from that trailer with clips from upcoming episodes, including some nice looks at Multiplex, Wentworth Miller as Captain Cold, Felicity Smoak… and a few more surprises. See if Barry Allen is faster than a speeding bullet Enjoy, and if you like them, link here rather than posting elsewhere. Thanks!