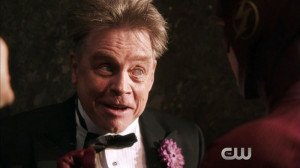 The Flash had 3.5 million viewers last night and a 1.2/4 rating in the Ages 18-49 demographic, beating Hell's Kitchen on FOX.
The ratings for "Tricksters" also hit some other great notes, as evidenced by a ratings press release from The CW below.
If you've seen "Tricksters" and want to talk about it with other fans, come by our forum!
Last night's even more action-packed than usual telecast of THE FLASH sped up 22% week to week in A18-34 (1.1/5) and jumped 27% in M18-34 (1.4/6). THE FLASH also rose 5% in total viewers (3.5M) and remained even in A18-49 (1.2/4).

THE FLASH was the #1 broadcast show for the night in M18-34. It tied for #2 in the 8pm hour in A18-34 and and tied for #3 in A18-49, and also beat Fox in total viewers in the hour.

The third episode of IZOMBIE gained 20% from last week in A18-34 (0.6/2), tying CBS in the hour, and remained even in A18-49.

After two weeks, IZOMBIE is averaging a 40% gain in total viewers, a 56% jump in A18-34, and a 48% increase in A18-49 in Live + 3 Day delayed viewing versus Live + Same Day alone. This season THE FLASH sees an average gain of 44% in total viewers, 48% in A18-34, and 48% in A18-49.