Flash TV Show Spoilers At FlashTVNews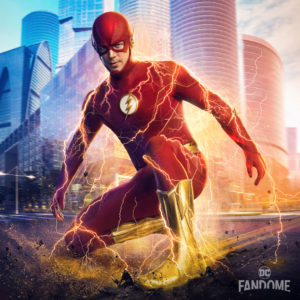 If you followed our Smallville site, KryptonSite, or are a regular visitor to our Arrow site, GreenArrowTV, you're probably already familiar with how we like to make compiled, dedicated spoilers pages for is known or rumored for upcoming episodes. Admittedly, we haven't always been the best at keeping this particular page updated, but we'll work on that. So now… let's have it: Details about upcoming episodes of The Flash!
Keep in mind that plans and details sometimes change, and that FlashTVNews never intends to ruin the show by having a spoilers page. When new spoilers are known, we'll try to update this site as often as possible. Please do not reproduce spoilers and content from FlashTVNews; instead, just place a link to the site.
If you have any legitimate spoiler tips, please e-mail them our way! You will remain anonymous. 
Episode #9.13: "A New World, Part Four" (SERIES FINALE!)
Written By: Eric Wallace & Sam Chalsen
Directed By: Vanessa Parise
Guest Stars: Rick Cosnett, Tom Cavanagh (Eobard Thawne/Reverse-Flash), Teddy Sears (Hunter Zolomon/Zoom), Jessica Parker Kennedy (Nora West-Allen/XS),  John Wesley Shipp (Jay Garrick), Michelle Harrison (Joan Garrick), TBD (Godspeed), TBD (Savitar),
OFFICIAL CW DESCRIPTION: THE FINAL RUN – The Flash (Grant Gustin), the fastest man alive, is tasked with his greatest challenge yet, to save the timeline and save existence. Friends old and new gather for an epic battle to save Central City, one last time. The episode was written by Eric Wallace & Sam Chalsen and directed by Vanessa Parise (#913).  Posted on FlashTVNews.com. Original airdate 5/24/2023. 
Air Date: May 24, 2023
General Flash Season 9 Spoilers
The Flash season 9 has officially been confirmed to be happening by The CW and will be the final season which will air in 2023. Stay tuned on Flash TV News for the official details as they become available!
Spoilers page assistance from Andy Behbakht of The Flash Podcast