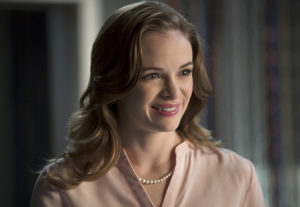 Danielle Panabaker's Caitlin Snow factors in to both parts of the Flash/Arrow crossover that airs this week. Part 1 – an episode of The Flash – airs Tuesday night, December 2 at 8PM on The CW, and then the second part – an episode of Arrow – can be seen December 3. You can see photos from both episodes here.
What was it like for her to return to the world of Arrow, where she appeared for one episode last season? We asked Danielle at the red carpet for the premiere screening of the crossover.
"She's been there before, but it's in a totally different capacity," she says. "When she went to Arrow before, she was just a scientist doing her job that Dr. Wells sent her to do, and this time, she goes back and she's going to see the Arrow. She's excited to see the lair and how things go down. It's a much darker and more serious show."
Is there any kind of power struggle between Caitlin and Arrow's Felicity (Emily Bett Rickards) over who is the smartest woman in the room? "I don't know that there is a power struggle," she says. "I think what's great is that they are trying to help each other. Felicity comes to Caitlin and asks her to do her a favor, and it's great to see that friendship. They're both protecting their guys. I think Caitlin is at first a little nervous when Felicity comes to STAR Labs in Episode 4, but once she understands that Felicity also wants the best for Barry, she's happy to see him," Danielle explains.
Danielle is excited for fans to see the crossover. "I'm really excited! I can't wait to see it. We all worked so hard. It's sort of a miracle that they pulled it all off," she says.
Finally, we veered away from the present day to ask Danielle if she thinks that Harrison Wells (Tom Cavanagh) is aware of Caitlin's future as Killer Frost. "As a viewer, I don't know. My instinct would be no, because I don't think he would want that threat out there," she speculates.
You can watch the video interview below: