"Lightning Gave Me Abs?" A Longer Trailer For The Flash Is Here!
Longer trailer for The CW's Flash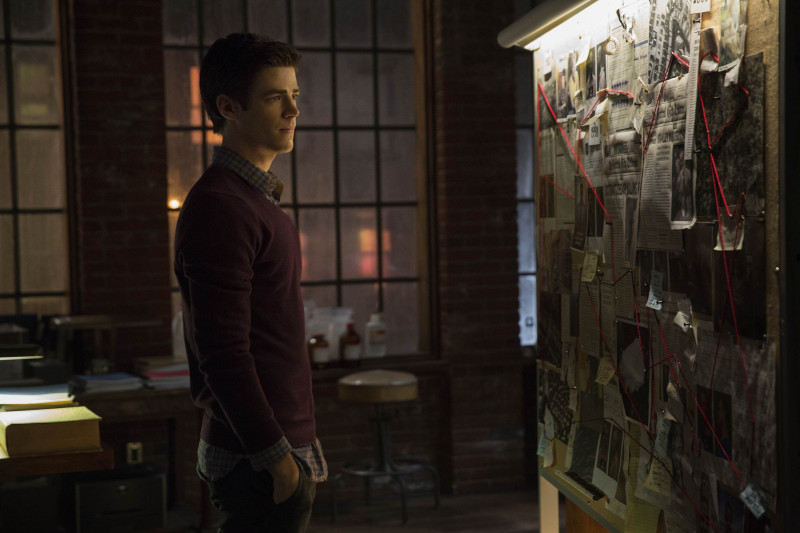 The teaser trailer was just the beginning…
The CW today released a longer trailer to promote The Flash, which premieres this Fall on the network and stars Grant Gustin in the lead role. Of course, if you're on this website you already knew that.
Here's the new trailer, and we'll get some screen captures up soon. We'll replace this with a YouTube version soon, too.
The Flash will air Tuesdays at 8PM on The CW, right before Supernatural, and in case you missed the news… Arrow's Stephen Amell will be in the pilot as Oliver Queen!
UPDATE: The CW has also released a shorter 30-second promo which you can also find below. Enjoy:
Flash Finale Exclusive Clip: What Does August Heart Want?
Exclusive preview clip for the Flash season finale "The Heart of the Matter, Part 2" featuring Grant Gustin and Karan Oberoi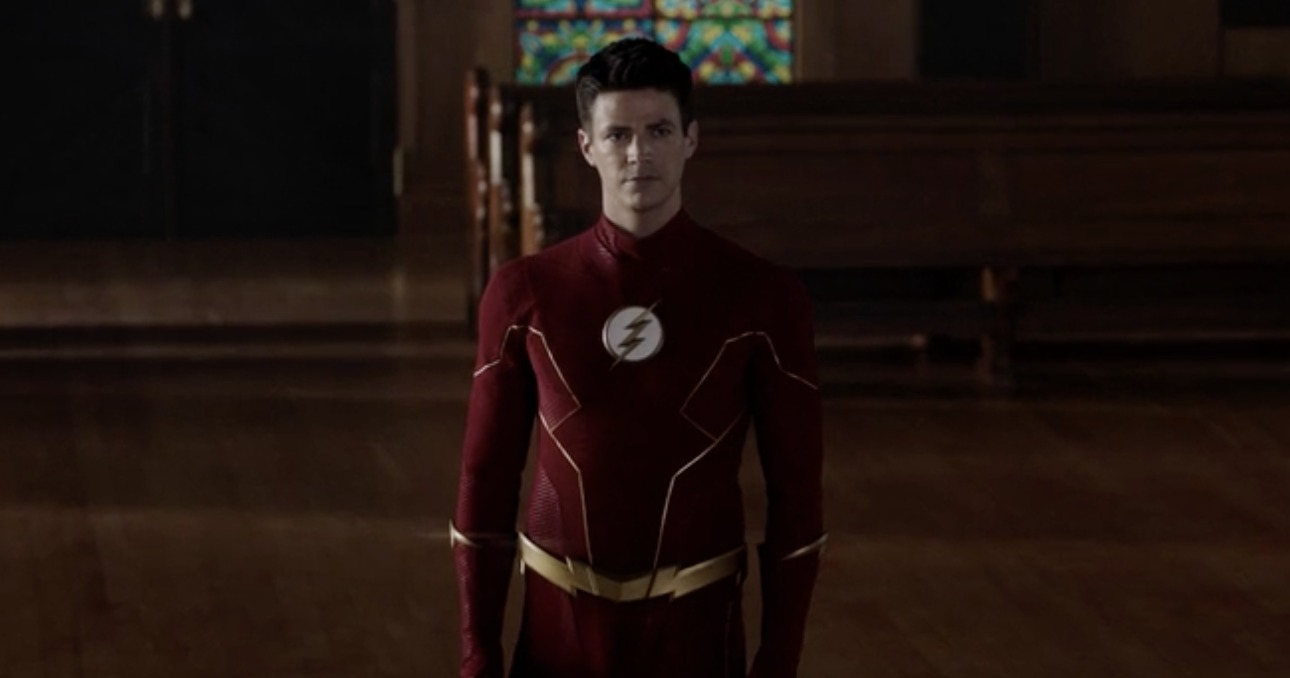 FlashTVNews has an exclusive clip from tonight's season finale of The Flash titled "The Heart of the Matter, Part 2." The episode airs at 8PM ET/PT tonight (July 20) on The CW.
The clip features a confrontation between Barry Allen a.k.a. The Flash (Grant Gustin) and August Heart/Godspeed (Karan Oberoi), where Barry wants to know what August Heart is trying to plan.
You can see the clip below; a description and preview images for "The Heart of the Matter, Part 2" can also be found underneath the clip.
THE FLASH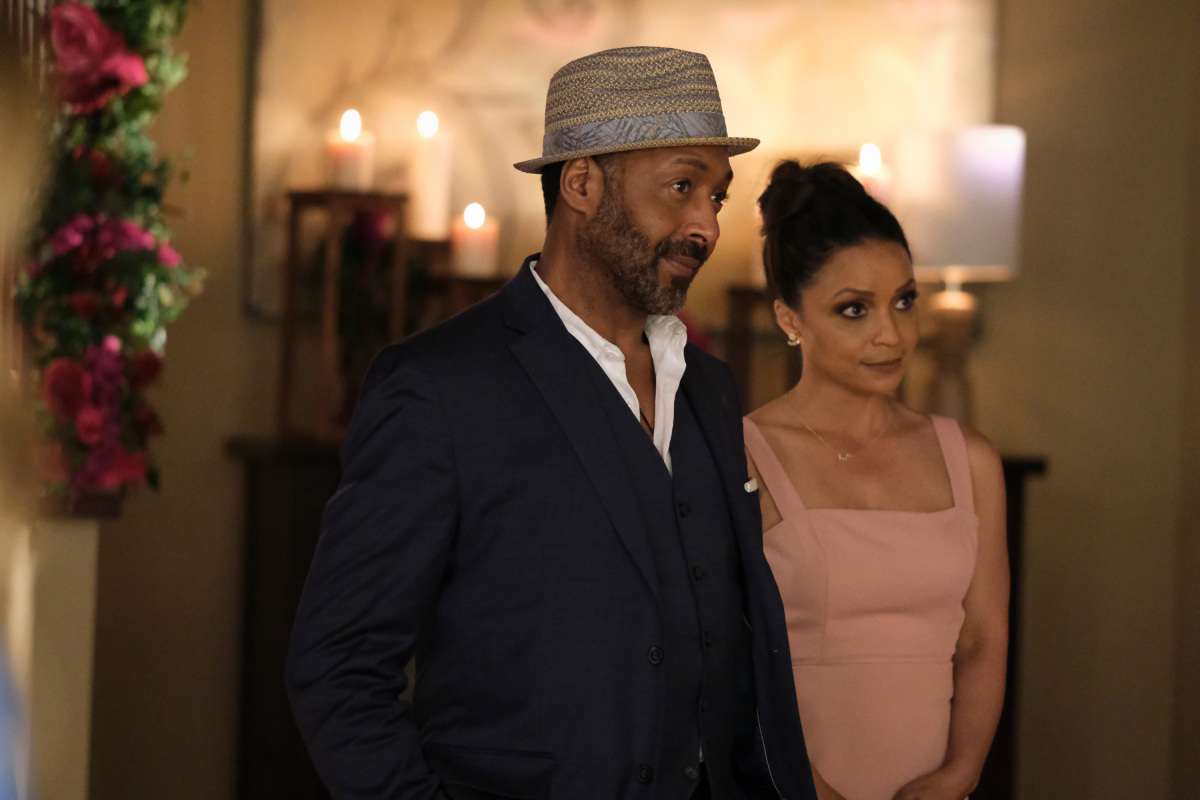 SEASON FINALE — The Flash (Grant Gustin) enlists a host of speedster allies, including Iris (Candice Patton) and his children from the future–Bart (guest star Jordan Fisher) and Nora West-Allen (guest star Jessica Parker Kennedy) — to end the speedster war and defeat a deadly new adversary: the villainous Godspeed (guest star Karan Oberoi). Marcus Stokes directed the episode written by Eric Wallace & Kelly Wheeler (#718). Original airdate 7/20/2021
Interview: John Wesley Shipp Discusses Tonight's Flash Finale
Interview with actor John Wesley Shipp about tonight's Flash season finale "The Heart of the Matter, Part 2" and Jay Garrick's role in it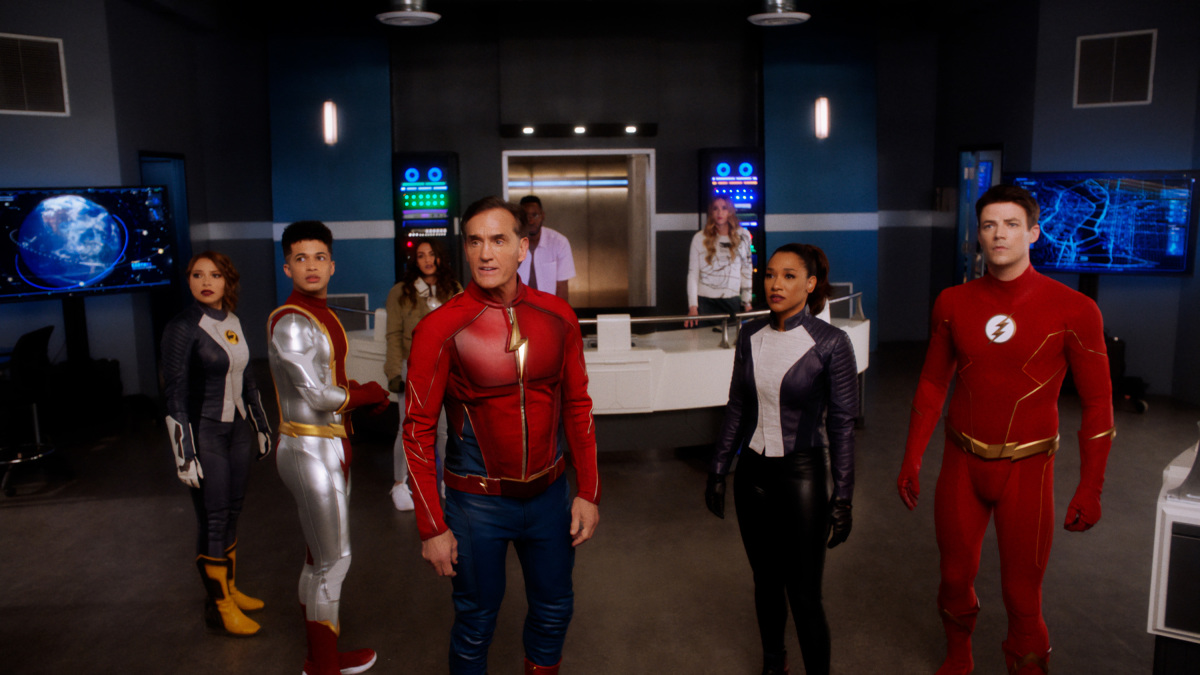 The Season 7 finale of The Flash airs tonight (July 20) at 8PM ET/PT on The CW, and "Heart of the Matter, Part 2" sees Team Flash not only going up against August Heart a.k.a. Godspeed, but it also features some matters of the heart as Barry and Iris renew their vows and new-from-the-future characters Bart and Nora do their best to protect their "Uncle Jay."
"Uncle Jay" is, of course, Jay Garrick, the original Flash as played by John Wesley Shipp, whose adventure in red tights began over thirty years ago as star of the CBS Flash TV series. In modern times, Shipp — whose credits also include such series as Dawson's Creek and Teen Wolf — has played multiple characters on the current Flash show, including Barry's father Henry Allen, Jay Garrick of another Earth, and even his original Flash character from 1990! Now he's on Earth-Prime for this big family reunion… and the speed force will need all they can assemble to stop Godspeed in the finale.
We had the opportunity to speak with John Wesley Shipp about this Flash finale and what we can expect. Here's it is:
FLASHTVNEWS' CRAIG BYRNE: Can you talk about the interactions that we have between Jay and Bart?
JOHN WESLEY SHIPP: It's is a very interesting construct, as so often has happened on The CW Flash.
There's a closeness that Nora and Bart feel toward Jay, so much, so that Bart comes back and puts his own life at risk to keep Jay from being killed, but it's based on a lived history that Jay hasn't experienced yet. He feels this intimacy, love, warmth, and energy coming off of this kid, which is great. Love it. Uncle Jay? All right. That's great. I love it. But he doesn't really get where it's coming from, because he hasn't lived the experiences that they have lived with him in the future.
The person who has to sell that, because we don't see it happen, is Jordan Fisher [Bart], and in the last episode, when he is telling Nora "they killed Uncle Jay" and his whole reaction, which was so true… it broke my heart. I was like, "okay, it's gonna work."
There are some things that we do in the finale that unless you believe how heartfelt Bart's connection to Jay is, it wouldn't have worked. But he laid it in so beautifully, and I can't wait for people to see what's coming in the finale.
It also feels great to be so central to what's going on in an episode. I've enjoyed my elder statesman status, where I get to come in and give some important information. I don't have to break my back. The kids do the heavy lifting and it's been great. But this time, I get to be at the crux of what's happening in the story. and not only that, but I have my powers back, and I get to be a part of the solution. When Eric Wallace was talking to me about coming back for these last two episodes, those two things sold me on it.
Was it during that conversation with Eric Wallace that you first found out that Jay was still on Earth-Prime after the Crisis?
I learned that before. He told me that when the conversation where he was selling me on coming back and sacrificing myself as Flash-90. I was like "whaaat?" We had the conversation on what happens to Jay, and Eric was quoted saying fairly early on that Jay and Joan were on Earth-Prime, so it wasn't a big surprise to me that they were brought on to Earth-Prime.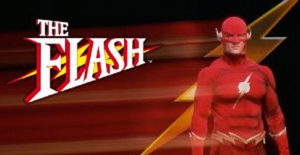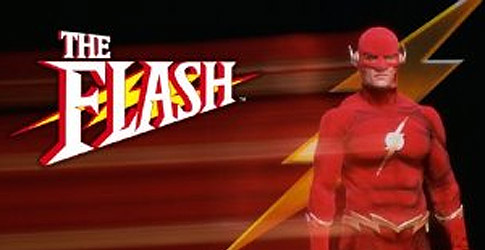 If you had a time machine to tell yourself 30 years ago that you would be on a Flash show again for eight years, how would you respond?
I wouldn't have been able to go on. [Laughs] I wouldn't have been able to continue.
I just remember that last shot with me and Mark Hamill, in southeast Los Angeles as we were fighting the sun coming up, trying to get the last shot in, sweating our you-know-whats off. Finally we get the last shot, and I rip off the wings and throw them in the air, and swear I'll never get into another superhero suit as long as I lived, simply because it physically was so hard, and and also, because we didn't have CGI. We did live action practical effects. We were always shooting until dawn. The suit was not particularly user-friendly, although it looked great.
So if I had known in 1991, that years later, be getting back into a new version of that suit, I might have changed careers.
Were you like "I'm going to go for a drive and drop my ice cream over this right now?"
That ice cream was looking mighty good. Exactly.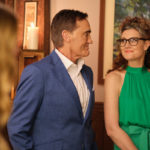 Can you talk about Barry & Iris's vow renewals, and being there for that?
I love many things about what they've done this season. I love dividing it into graphic novels. We live in the age of Netflix. Nobody has the attention span to drag a 23 episode arc out; in this case, 18 because of COVID. You know, and so to break it in to what they're calling graphic novels, and of course, going into the last episode of the last graphic novel, which we go through so many special effects, so much peril, so much emotional angst… and then at the end of it, we're people. We're out of our superhero suits. We're at a renewal of a vow ceremony. It's a life-affirming and love-affirming event at the end of the day. What a beautiful way to end this extraordinary season, which has been shot under extraordinary conditions.
Are you allowed to say anything about your appearance onStargirl, and is that Jay Garrick different from the one that we see on The Flash?
I can't really say anything, because I don't know what they want me to say, and what they don't want me to say. But clearly, it's been announced it's Jay, and it has his connection to the JSA, and I will say in a terrific way – a way that it felt so satisfying doing it. I'm excited about people watching Stargirl. Starting August 10 on The CW!
DC Comics is coming out with Superman '78 and Batman '89 comics. Would you like to see The Flash '90 at some point?
Oh, sure. Why not? That would be great fun.
We one that they did while we were on the air and the DC library and told me it was the only second live action cover that DC Comics ever did in their history. In that, there's a comic that's clearly me, and Amanda [Pays], and Alex [Desert]. In addition to that, there are interviews with the builder of the suit, and [Executive Producers] Danny Bilson and Paul DeMeo. But yeah, sure, why not? It would be a trip.
Is there any more hype you'd like to share for Tuesday about just why people should tune in?
They're throwing everything they have at this episode. The Flash does a good job of balancing heart and action. Action, adventure, big show, special effects, family drama, and interpersonal relationships.
When I read the script for the season finale, I was like, "man, they are throwing everything and the kitchen sink at this episode." How thrilling and exciting, and how life and love affirming. People who have ever watched The Flash certainly want to want to tune in for this event.
The Flash season finale "The Heart of the Matter, Part 2" airs tonight (July 20) at 8PM ET/PT on The CW. Take a look at some newly-released photos from the season finale here!
Flash Season Finale Photos: Barry & Iris Renew Their Vows
Photos from The Flash Season 7 finale "Heart of the Matter, Part 2" featuring Barry and Iris renewing their wedding vows
Barry and Iris are renewing their wedding vows in the July 20 season finale of The Flash — and this time, Oliver and Felicity won't be around to steal their special moment!
There are a lot of fun guests on hand for the season finale wedding event, including Jay and Joan Garrick, Cisco Ramon, Bart and Nora… and who knows, maybe a few surprises as well.
You can see the gallery of photos from "Heart of the Matter, Part 2" below; an official description for the episode can be found underneath the slide show.
UPDATE: Today – on the day of the big finale – The CW has released more photos which have now been added to the gallery! These new pics include all of the Flash Family and … Jordan Fisher singing?!?!
THE FLASH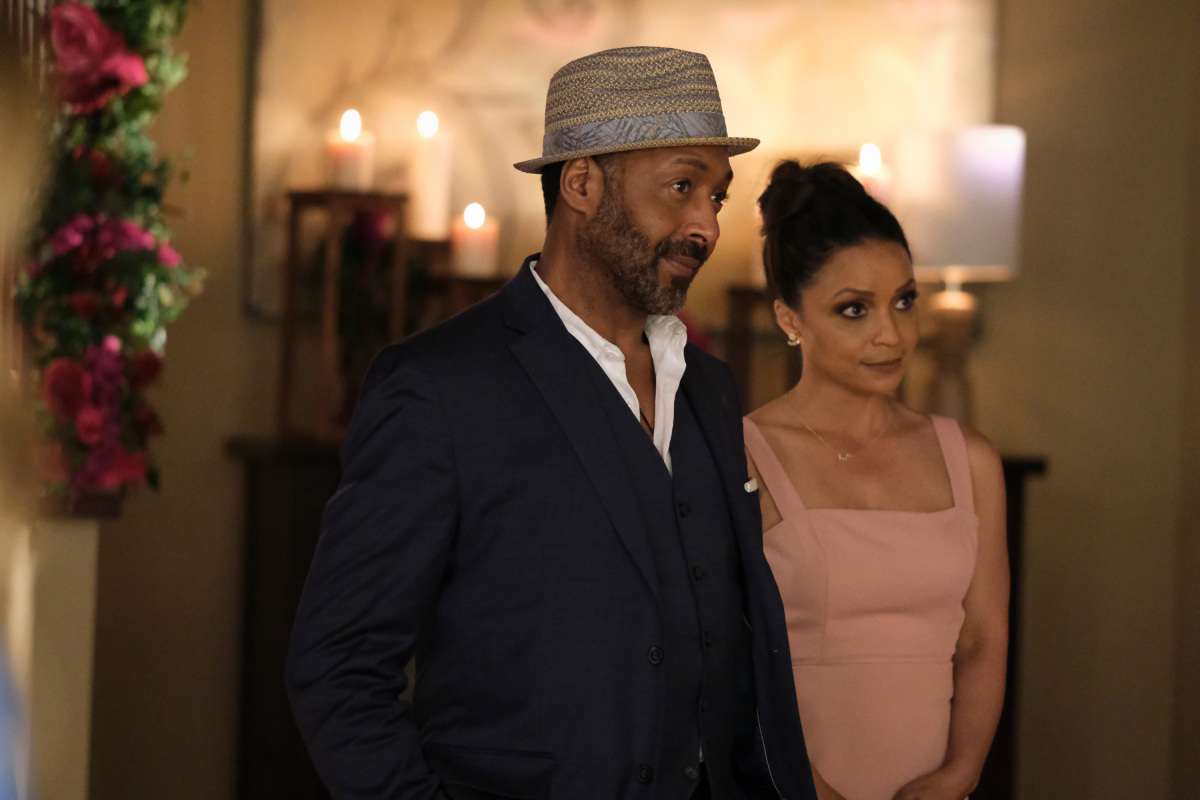 SEASON FINALE — The Flash (Grant Gustin) enlists a host of speedster allies, including Iris (Candice Patton) and his children from the future–Bart (guest star Jordan Fisher) and Nora West-Allen (guest star Jessica Parker Kennedy) — to end the speedster war and defeat a deadly new adversary: the villainous Godspeed (guest star Karan Oberoi). Marcus Stokes directed the episode written by Eric Wallace & Kelly Wheeler (#718). Original airdate 7/20/2021