After such an excellent first season, one might almost expect for The Flash to slow down… after all, keeping up that level of quality isn't easy.
I can happily say that The Flash Season 2 premiere, "The Man Who Saved Central City," keeps it up and having seen what happens after it, I can say Season 2 is quite rewarding for fans who followed the show during the first year.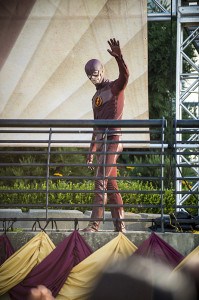 Several months have passed since Barry ran up into the singularity… and, Barry being Barry, blames himself for many things – the destruction, the fracturing of the team, and perhaps most of all, believing Harrison Wells. The people who care about Barry try to get through to him, and he might need them, now that a large new foe that is dubbed "Atom Smasher" hits Central City right as The Flash is being honored as a hero by the town.
It's not really a spoiler to say that the team does get back together. Barry has nice moments with several of the people who mean something in his life, so if you're a 'shipper of any variety, you might end this happy. There is humor, with my favorite part being a moment where Victor Garber's Martin Stein comes up with a name for the villain of the week and Cisco is proud of him. (Also, again, how cool is it to have Victor Garber on this show?)
There is a character decision within that I'm not totally okay with and I don't really understand, but I assume that will play out as the season goes on. And, yes, The Flash finally gets the white emblem, as Barry and the STAR Labs team embrace the future. Most of all, though, The Flash season premiere opens the world(s) and gets us started on a new adventure. Zoom is coming!
The Flash Season 2 premiere, "The Man Who Saves Central City," airs TONIGHT at 8PM (ET/PT) on The CW! Come join the countdown on our Flash forum, and if you'd like, take a look at some season premiere photos below: