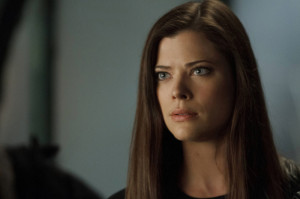 Can you believe we're already getting spoilers for The Flash Episode 16?
Access Hollywood is reporting that Tomorrow People alum Peyton List will be appearing in the sixteenth episode of The Flash, which is titled "Rogue Time." She's the second cast member from that Greg Berlanti show to appear on The Flash; the first being Robbie Amell.
(Now, guys: Where's Luke Mitchell? Captain Boomerang Jr., anyone?)
List has a DC connection already, having played Lois Lane's sister Lucy on Smallville.
Here is how Access Hollywood describes her character, Lisa Snart (yep, a golden glider if we ever heard of one!)
While Leonard is cold and calculating, Lisa is a wild child and anxious to prove to her older brother she's got what it takes to be in his criminal gang. She is sly, charming, and even a little sadistic. She's also not afraid to use her sexuality to get what she wants, which will put her on a collision course with S.T.A.R. Labs employee and friend of The Flash — Cisco Ramon (Carlos Valdes).