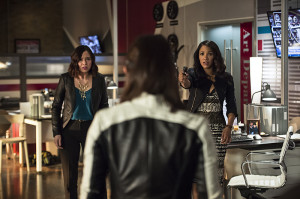 Notice we didn't really hear who is playing the female Dr. Light?
There may be a reason for that.
MAJOR SPOILER BELOW!
The Australian promo trailer for Tuesday night's new episode of The Flash, titled "The Darkness and the Light," features Malese Jow as Linda Park… and it seems she has a doppelganger! You know where this is going…
A tip of the hat to CBR for posting about this one first.
You can see the promo below; a gallery of official images from the episode can be found here.