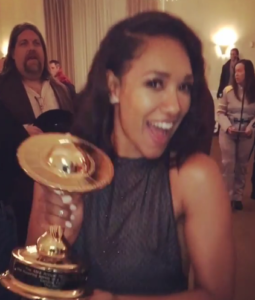 Iris West herself Candice Patton went home with a Saturn Award last night, getting the award for the Best Supporting Actress on Television. Candice outdid some pretty heavy competition, including Kathy Bates (American Horror Story: Roanoke), Danai Gurira (The Walking Dead), Melissa McBride (The Walking Dead), Thandie Newton (Westworld), Adina Porter (American Horror Story: Roanoke), and Evan Rachel Wood (Westworld).
The 43rd Saturn Awards honored the best in science fiction, fantasy, horror and other genres in film, television, home media releases, and theatre in 2016 and early 2017. The Flash as a series had a few nominations but Candice was the only win for this year.
Congratulations to Candice on winning the award!