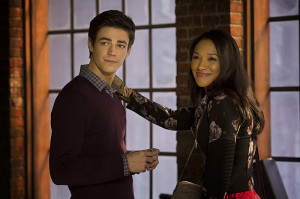 Sadly, Grant Gustin isn't feeling too well, so in order to keep his speed force abilities in check and to get better, he won't be at the Paley Center Flash Q&A tonight.
However, a super-friend is taking his place!
Candice Patton has been added to the program, joining her TV dad Jesse L. Martin and amazing executive producers Andrew Kreisberg and Greg Berlanti.
We will be covering the carpet and doing interviews, so stay tuned for that! The Q&A will be live-streamed; you can read details about that here.
Get well soon, Grant!