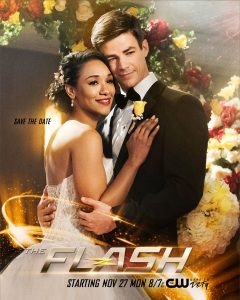 In the upcoming "Crisis on Earth-X" event airing this Monday and Tuesday on The CW, Barry Allen and Iris West finally tie the knot – hopefully. During our recent visit to the Flash set in Vancouver, we were part of a group of journalists who asked Candice Patton (Iris) if it's about time that Barry and Iris walk down the aisle.
"I think it's time," Candice confirmed. "I think that fans have been waiting for three years. It's been a long time coming. They've had other partners, relationships, trials, tribulations and so, I think it's time for them to make it all happen. The Wedding of the Century, essentially."
The actress said it is "very cool" to have the big crossover revolving around her character's wedding, and described it as a "spectacle." But, it might not go smoothly.
"I think that you can expect on any DCTV show that wedding's don't usually go as planned. You've got some villains who come in and try to spoil that. You've got aliens from Earth-X. So, things don't go as planned. You'll have to wait and see if they can actually get married at some point," she said cryptically.
Patton was flown to Los Angeles to get a dress from Monique Lhullier. "There's a line in the script about how Monique Lhuillier dresses are indestructible," Patton shared. "She really goes through it in this episode in this wedding dress and it's still pristine."
RELATED: See photos of the WestAllen wedding ceremony at KryptonSite!
She also mentioned that the crossover includes "a lot of people" that she gets to interact with this year.
"Everyone over at Legends. Some of them you saw me with in last year's crossover, but Dominic Purcell, you've never seen us interact before. You see some of that. Caity Lotz's character, Sara Lance. More stuff with Melissa on Supergirl. Chyler Leigh, who I've never gotten to work with. Yeah, there's a lot of good stuff. Stephen Amell. And a lot, a lot, a lot with Emily Bett — Felicity. We kind of team up in the crossovers and work together," she revealed.
And is there any drooling over Oliver Queen?
"No, surprisingly. You would think I'd be like, "'eah, bring your boyfriend. I want to sit next to him, hang out with him at the rehearsal dinner.' Or whatever. Not a lot of that," Candice joked.
Finally… is it too early for Barry and Iris to start talking about kids?
"I think it's too early to start talking about kids, yeah. Let's just get them married first, and get through aliens, and world domination, and all that good stuff," Candice said.
You can see video of the interview below, complete with a guest appearance by Candice Patton's dog, Zoe Deschanel Kravitz. Visit our YouTube channel for more "Crisis on Earth-X" interviews!