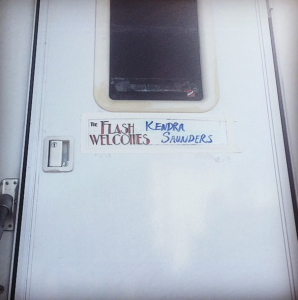 Earlier today, the photo to your left was posted on Instagram and Tweeted out by actress Ciara Renee, who plays Hawkgirl/Kendra Saunders in the upcoming Arrow/Flash spinoff project. Many have taken this as a clue that the actress would be in the Flash season finale, as the photo says "The Flash Welcomes Kendra Saunders."
In any event… FlashTVNews has checked with the studio, and have been told that Ciara Renee is NOT in the Flash season finale. Which means that either the sign is there representing the spinoff taping, perhaps… she's appearing somewhere else, or in a different episode… maybe she's there for a photoshoot or costume tests… maybe she's there to film a promo for the upcoming spinoff…  or… maybe she's having fun with her followers.
Any guesses from all of you would be welcome below in the comments section. When and if we ever find out what that trailer door means, we'll let you know.