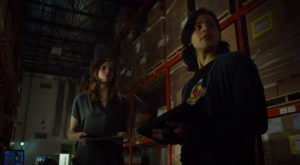 A clip of Carlos Valdes and Danielle Panabaker from tonight's episode of Arrow has made its way online — you can see the clip here — and because FlashTVNews is determined to give you a lot of what you want, we've made some screen captures from their first scene, which appears on tonight's episode of Arrow.
Carlos plays Cisco Ramon, a guy who'll give you good vibes. Danielle plays Caitlin Snow, who looks to be anything but chilly for now, at least. Both characters will be series regulars on Flash if it goes to become a weekly series. (The CW makes their announcement May 15)
If you like the caps, be sure to send people to the site rather than copying/pasting elsewhere. Don't miss the debut of these two Flash characters tonight at 8 on The CW!