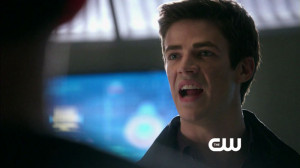 There was a lot of talk about how the name of the pilot episode of The Flash was the same as the season premiere title for Arrow Season 2. "City of Heroes" had appeared on a lot of press material; but then again, so did "Pilot," which is what we can see on iTunes and that sort of thing.
So what was Flash Episode 1 called, anyway?
We reached out to an official rep for The CW, and found out, the actual, official title for the Flash pilot is… "Pilot."
Now to either edit a bunch of old stories, or pretend like it didn't happen.