While a timeslot and premiere date not yet been announced, it was revealed today that Canada's CTV will be airing The Flash this Fall.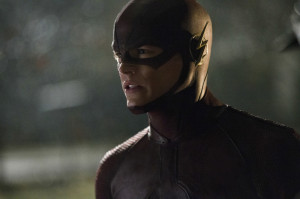 You can read all about their new series acquisitions, which also include Gotham, at our general TV news site, KSiteTV.
Here's how CTV describes The Flash:
From the ARROW creative team including Golden Globe Award-nominee and executive producer Greg Berlanti, executive producer Andrew Kreisberg, and EMMY and Critics Choice Award-winner and director David Nutter, THE FLASH is a fast-paced super hero drama that follows the high-speed adventures of the Fastest Man Alive. The action drama follows Central City Police scientist Barry Allen (Grant Gustin, ARROW), an everyday guy with the heart of a hero and the genuine desire to help others. Standing still emotionally since the day his mother was murdered (and his father unjustly jailed for the crime), Barry was taken in as a child by the investigating Detective West (Jesse L. Martin, Law & Order) and raised in a cop's home alongside West's super smart daughter Iris (Candice Patton, THE GAME). But when an unexpected and devastating accident at the S.T.A.R. Labs Particle Accelerator facility strikes Barry, he finds himself suddenly charged with the incredible power to move at super speeds. While Barry has always been a hero in his soul, his newfound powers have finally given him the ability to act like one.