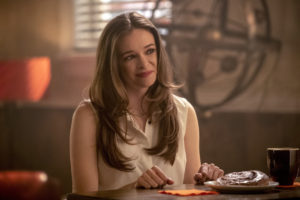 Killer Frost, actress, and director… those are three titles held by Flash star Danielle Panabaker who has played Caitlin Snow on the series from the beginning. And now, she has a new role: Mom!
Danielle and her husband Hayes Robbins have welcomed their first child to the world, and Danielle shared the great news earlier on Instagram.
"This was good but holding you in my arms is an indescribable feeling," Panabaker captioned a picture of her with her pregnant baby bump. "Happy to announce that our baby was born and we are safe, happy, and healthy at home!"
Well wishes were shared on Instagram by several members of the Flash family.
At a time when things are so uncertain, it is great to have some good news coming in. Congratulations to Danielle and her family on their new addition!