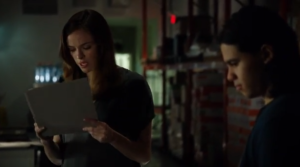 The new episode of Arrow airing tonight (April 15) at 8PM (ET) on The CW features the first appearances of two characters from the Flash pilot – that would be Carlos Valdes as Cisco Ramon, he of good vibes, alongside Danielle Panabaker as the killer-frosty Caitlin Snow.
The DC All Access show had an exclusive preview clip that includes their first appearances if you just can't wait!
Watch the video below. You can find their sequence at the 3:15 point.