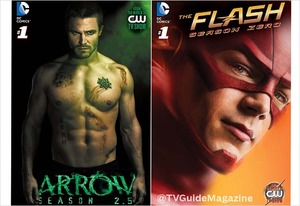 Flash: Season Zero is one of two new digital comic book series that DC Entertainment will be launching in September, with the first print issue to hit October 1. The story takes place between the first two episodes of Flash, and will be co-written by Brooke Eikmeier and Katherine Walczak with artwork by Phil Hester and Eric Gapstur.
The news was broken by TV Guide Magazine today.
Andrew Kreisberg told Rich Sands that Barry will already be the Flash and have his team, and a new set of villains that we won't be seeing on the TV show will factor in. "It'll feel like the same heart, humor and spectacle that you get watching Flash," he said.
The new rogues are a group of circus performers who got superpowers after the STAR Labs particle accelerator explosion that also transformed Barry. This group is lead by Mr. Bliss, a character from the Starman comic book series with the ability to manipulate emotions. (No relation to Saved By The Bell's Miss Bliss). "He and his cadre of circus folk have decided that they've been pushed around long enough and are going to take it to society," Kreisberg said.
In addition to Flash: Season Zero, DC will also be publishing Arrow Season 2.5.You can read the TV Guide Magazine article that broke this news here.