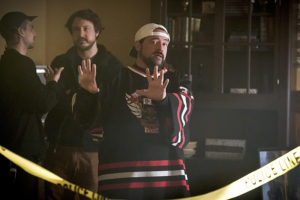 Kevin Smith, who has directed several fan-favorite episodes of The Flash including "The Runaway Dinosaur," is definitely not ready to enter the Speed Force just yet.
Last night (February 25) between two standup comedy show performances in Glendale, California, Smith was taken to the hospital after feeling nausea and a heavy chest. If he had not gone to the hospital when he did, he may not have made it.
"After the first show this evening, I had a massive heart attack," Smith Tweeted last night. "The Doctor who saved my life told me I had 100% blockage of my LAD artery (aka "the Widow-Maker"). If I hadn't canceled show 2 to go to the hospital, I would've died tonight. But for now, I'm still above ground!"
Smith expanded on the experience on his Facebook page.
Candice Patton responded to Smith's Tweet this morning asking "and what do we say to the god of death?" with a heard. "Super glad ur okay," she added.
Our wishes go out to Kevin Smith for a very fast recovery – he has one more episode of The Flash in the can to air later this season (featuring the return of Danny Trejo!) and we'd certainly like to see many, many more. We've also had the privilege of seeing the man direct, and not only is he very creative, but he is also kind to visitors to the set and, it seems, everyone he's worked with.
After the first show this evening, I had a massive heart attack. The Doctor who saved my life told me I had 100% blockage of my LAD artery (aka "the Widow-Maker"). If I hadn't canceled show 2 to go to the hospital, I would've died tonight. But for now, I'm still above ground! pic.twitter.com/M5gSnW9E5h

— KevinSmith (@ThatKevinSmith) February 26, 2018