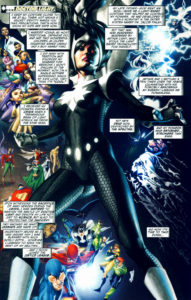 This morning, word came that the female version of Doctor Light will be showing up on The Flash.
From this week's Ask Ausiello column at TV Line:
Question: Flash scoop, please! —Tatiana
Ausiello: Arrow addicts may recall Cisco and Caitlin making mention of ex-S.T.A.R. Labs employee Doctor Light when they first appeared in Season 2's "The Man Under the Hood." Turns out, that was some stealthy foreshadowing. Stanton tells us that the metahuman will turn up this season on The Flash — but "it's going to be the female version" of the character.
The female version of Doctor Light, Kimiyo Hoshi, first appeared in the Crisis on Infinite Earths series (often said to be a favorite of Greg Berlanti's). Unlike her villainous predecessor, Dr. Arthur Light, Kimiyo was one of the good guys, even being part of the Justice League.
The Flash Season 2 premieres October 6 on The CW.