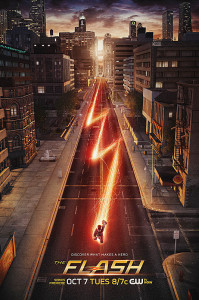 Yesterday, we posted some words with Flash Executive Producer Andrew Kreisberg about the possibility of more actors from the classic Flash TV series appearing on the new show, from our interview at the PaleyFest Fall Preview that was held last weekend. Today, we cover some more topics from that evening.
For starters, what's up with crossovers between The Flash and Arrow, the show that spun it off?
"Since Barry started on Arrow, it would be foolish to ignore it," Kreisberg says about crossover potential. "We're hoping that fans of Arrow are coming to watch The Flash. There are crossovers as big as Episode 108… both episode 8's of the show this year are going to be a two-hour crossover event. But then there are little crossovers, whether we have an Arrow villain coming into a Flash episode, or Felicity coming, or the mentions of STAR Labs on Arrow… we'll see the Big Belly Burger exists in Central City as well; that they're a national chain in the DC Universe. That stuff is fun for us. Obviously it shouldn't be what's driving the engine, but if you are watching both shows, I think there's going to be so much for you to enjoy," he explains.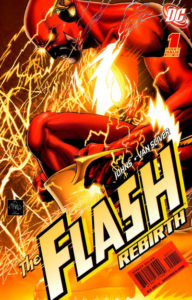 Has the Flash comic book influenced the series at all?
"It's influencing it a lot," Kreisberg says, citing a particular example. "The biggest book is probably [Flash:] Rebirth, which Geoff Johns wrote, and he's one of the creators of this show. Before Geoff took on the book, [Barry] had a much simpler background, without nearly so much pathos. Geoff really infused the book with that. I remember when we were shooting the pilot, and the scene where Barry's mother was killed, Geoff actually got a little misty standing there. He's going to kill me for saying this, but he was just like 'I can't believe we're actually filming this, and it's come to life.' So there's a lot of the comic books in this. Probably even moreso than Arrow. I think that Flash has a much richer and deeper comic history than Arrow does, and with that, there is a lot more alchemy, as it were," he says.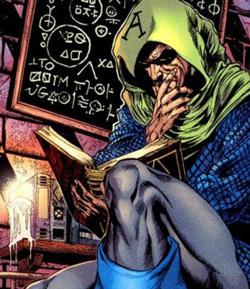 Wait… did he say Alchemy? As in Dr. Alchemy?
"That was not a Dr. Alchemy hint!" he says when asked if that was intentional. "But I always say, especially with these things, it can't just be a live-action comic book adaptation. Something has to happen – there does need to be a level of alchemy, and I think that the best comic book adaptations have had that mixture of taking the source material, and then reworking it, and pulling out the good stuff, and what works and what doesn't work, and hopefully we've done the same with Flash," Kreisberg says.
The Flash premieres October 7 on The CW… only 25 days away at the time this is written!