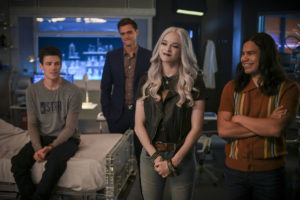 As we saw in tonight's Flash season premiere "Into the Void," Killer Frost (Danielle Panabaker) is going to be able to live a little bit of a life of her own. What does that mean for her future?
New showrunner Eric Wallace was asked that very question.
"Now that she has a life coach?" he joked, referring to Ralph's offer. "I will tell you, and again, no spoilers, it has been a pure delight writing Killer Frost this season, because she's much more in the forefront than Caitlin is."
"That life coach stuff starts next week in 602," Wallace teased. "It's like the second scene and we honor the promise of the premise.We deliver. And it's it's led to these hilarious situations. Because basically, it's like when we talked of her almost as a teenager who finally got the keys to the car but doesn't know how to drive. We've got to drive to go to the store, to get the groceries, to get some wine, to meet your boyfriend, or to go to the movies, or whatever. So everything is new through her eyes, which means she's gonna make some mistakes, which is great, it's gonna lead to some more tears, but then at the end, she's going to grow into something that didn't exist before. Maybe you do lose that Killer. Maybe it's just Frost waiting down the line."
Photos from the second episode of The Flash Season 6, "A Flash of the Lightning," can be found here.