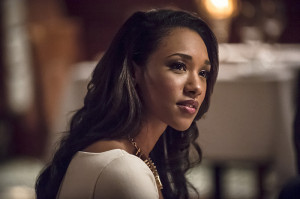 Last week, we caught up with Candice Patton in an interview roundtable at the Wondercon convention in Anaheim, California. Of course, we started the ball rolling by asking about what it feels like that Iris now seems like the only character not to know that Barry Allen is the Flash. You can watch the video below.
Most interesting in this interview? Candice's reaction to how things will change if Barry is able to go back in time and save his mother. And, it sounds like she's going to make some progress in investigating Harrison Wells, which may lead her to STAR Labs. Hmm…
A new episode of The Flash, titled "All-Star Team Up," airs tonight at 8PM on The CW. Come join the countdown on our Flash forum!