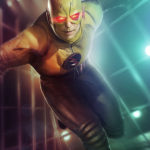 Oh, those international promo trailers and their big spoilers.
A Flash promo that aired in New Zealand for Tuesday's new episode, "The Trap," was uploaded to YouTube by "Kiwi Tarnz" and in it – spoiler warning – The Reverse-Flash reveals himself to Eddie Thawne.
Who, of course, asks "Why do you have my name?"
Is it Tuesday yet?
You can see the promo below. Official promotional images for "The Trap" can be found here.