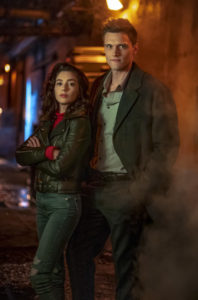 "A Girl Named Sue" is the title of the February 18 episode of The Flash and The CW has released some preview photos! In addition to the gallery of episodic images, there are a couple of glamour "cast photo" style pics with Hartley Sawyer and guest star Natalie Dreyfuss.
You can see the pictures below, but first, a description for the episode:
WHEN RALPH MET SUE — After months of searching for Sue Dearbon (guest star Natalie Dreyfuss), Ralph (Hartley Sawyer) gets a lead on her whereabouts and finally comes face to face with his missing client. However, Sue refuses to return home to her family, and instead, takes Ralph on a daring adventure. Iris (Candice Patton) faces a new challenge while Barry (Grant Gustin) considers a potentially dangerous request from a trusted source. Chris Peppe directed the episode written by Thomas Pound & Lauren Certo (#612). Original airdate 2/18/2020.
UPDATE: The CW has released four more photos, and you can find them all below!