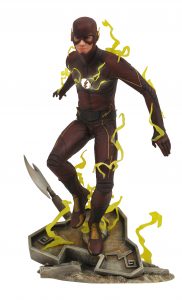 Diamond Select Toys has provided FlashTVNews with an exclusive first look at a Flash TV Series PVD Diorama that is coming out next summer, featuring the likeness of Grant Gustin as Barry Allen/The Flash!
It obviously won't be out fast enough to speed under our trees for this Christmas, but with the Summer 2018 release, it's a guaranteed "must have" for next year!
Here's the solicit information; you can find some exclusive images below. The suggested retail price for the diorama is $45 US.
DC Gallery Flash TV Series PVC Diorama
A Diamond Select Toys Release! Run, Barry, run! The Flash comes racing into the DC Gallery line with this sculpture of Barry Allen from the CW TV series The Flash! Based on Grant Gustin's portrayal of the character on the show, this 9-inch PVC diorama shows him screeching to a halt with Speed Force energy crackling off of him. This sculpture, and features detailed sculpting and paint applications and comes packaged in a full-color window box. Sculpted by Rocco Tartamella!
You can see and purchase some previously-released Diamond Select Toys PVC figurines here.