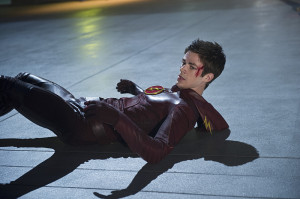 The initial overnight ratings for the Flash midseason finale are in, and they're pretty amazing for The CW, beating ABC and nearly beating FOX last night.
The episode had 4.54 million viewers and a 1.5/5 in the Ages 18-49 demo. Chances are good that the final numbers will go up even more once DVR and time-shifted viewing are factored in.
UPDATE: They did go up! 4.66 million viewers for the final overnights. Even higher once other numbers come in! The Flash is a hit for The CW!
Here's a press release from The CW with more details:
Big Tuesday night for THE FLASH and SUPERNATURAL on The CW…

Coming off of last week's huge crossover episode, THE FLASH midseason finale actually rose 4% week to week in total viewers (4.54M) for its most watched episode since its series premiere, and dipped just slightly in A18-34 (1.2/5) and A18-49 (1.5/5).

And last night's midseason finale of SUPERNATURAL was the series' most watched episode (2.81M) in more than four years, going back to 10/15/10, and up +21% versus last week.

SUPERNATURAL also had its best M18-34 rating in more than four years (1.3/5, back to 10/22/10), up +44% from last week, and hit a season high in M18-49 (1.2/4), up +20% week to week, its best since 2/3/13. SUPERNATURAL matched its season high in A18-49 (1.1/3), up +22% from last week, and was up +25% week to week in A18-34 (1.0/4).

THE FLASH outrated ABC in total viewers and A18-34 and A18-49 in the hour.

SUPERNATURAL tied for #3 in the hour in A18-34 and matched NBC at #4 in A18-49.

It was The CW's most watched Tuesday night (3.67M) since THE FLASH premiered on 10/7 and held even with last week in A18-34 (1.1/4) and in A18-49 (1.3/4).

The CW tied with NBC as #2 for the night (8-10) in A18-34.
Come talk about "The Man In The Yellow Suit" on our Flash forum!