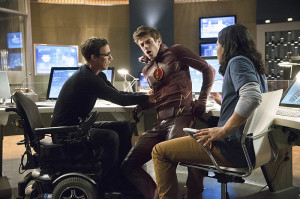 Once updated overnight ratings came in, numbers for the third episode of The Flash went up to 3.53 million viewers and a 1.5/4 in the 18-49 demographic last night against heavy competition which included The Voice, NCIS, and the first game of the World Series.
Ratings should go up even more once time-shifted viewing is factored in.
If you've watched "Things You Can't Outrun" and want to talk about it with other fans, come by our forum!
If you want to have the episode to own, it's already on iTunes and Amazon Instant Video.