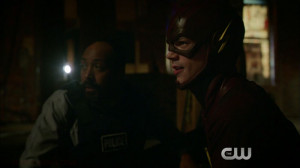 The clip itself doesn't appear to be online yet, but thanks to Mr. Video, we have screen captures from a clip in which Joe and the cops confront Ray Bivolo, aka the Rainbow Raider, and the Flash comes in to save the day.
But The Flash might not be able to do it alone, as a green hooded archer might come in to help out.
You can see the screencaps below, and as always, if you like them, please just link to FlashTVNews rather than reposting them elsewhere. Thanks!
"Flash vs. Arrow" airs December 2 on The CW. (And, yeah, the caps are pretty dark, because the scene is pretty dark.)