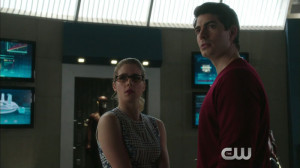 Thanks to Mr. Video, we have screen captures from a preview clip for Tuesday's new episode of The Flash, which is titled "All-Star Team Up."
The clip features Arrow guest stars Ray Palmer (Brandon Routh) and Felicity Smoak (Emily Bett Rickards) as they come to STAR Labs for help with Ray's Atom suit.
As always, if you like the caps, please just link to FlashTVNews rather than duplicating to repost on Tumblr/Twitter/etc. Thanks!