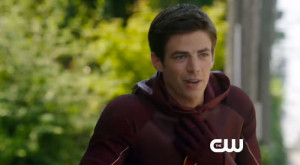 A new episode of The Flash airs on Tuesday night, October 14, and to keep the excitement coming, we've got screen captures from the preview trailer for the episode, which is called "Fastest Man Alive."
In the episode, The Flash fights the menace of Multiplex! Plus a whole lot of other cool stuff within, including William Sadler as Simon Stagg.
Here are the screen captures, and if you want to see the trailer itself, you can find it here.