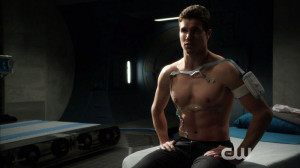 Tonight, The CW aired a trailer for next week's episode of The Flash, titled "The Nuclear Man"… and now, thanks to Mr. Video, we have some screen captures from the trailer, which should keep us satisfied until The CW inevitably releases some official promo images soon.
Look for Victor Garber as Prof. Martin Stein within… and Robbie Amell wearing the standard Amell uniform of shirtlessness.
It's almost time for Firestorm!
Enjoy the caps, and as always, if you like what you see, link people to FlashTVNews rather than copying or reposting elsewhere.