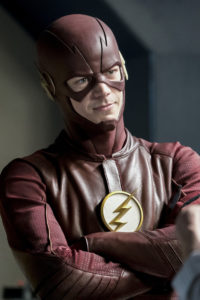 The Season 3 finale of The Flash is called "Finish Line" and while The CW released an official description for the episode this evening, the synopsis doesn't reveal much by way of spoilers.
So, here you go. A whole sentence complete with credits for the episode. We'll have some photos and other cool stuff before the episode airs, for sure, but this is what you've got to work with for now.
"Finish Line" airs May 23 on The CW.
SEASON FINALE – With nothing left to lose, Barry (Grant Gustin) takes on Savitar in an epic conclusion to season three. David McWhirter directed the episode written by Aaron Helbing & Todd Helbing (#323). Original airdate 5/23/2017.