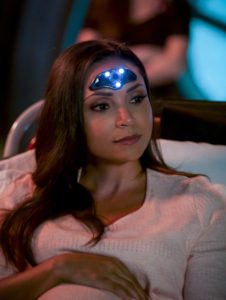 The Flash will soon have two Danielles in their regular series cast.
Deadline is reporting that Danielle Nicolet who has played Cecile Horton since the Season 1 episode "Who Is Harrison Wells?" will be a series regular on the show starting with Season 5. This is a promotion for the actress who has appeared in many episodes of the series, especially in Seasons 3 and 4. It also makes a bit of sense as Joe and Cecile recently gave birth to a baby girl, Jenna.
Congratulations to Ms. Nicolet on your upgrade! Hopefully there will be more news to come in the weeks leading to Comic-Con…. *cough* Jessica Parker Kennedy as series regular too? *cough* One thing is certain: It'll be nice to finally have more than two female series regulars on the show.
The Flash Season 5 premieres this Fall on The CW.