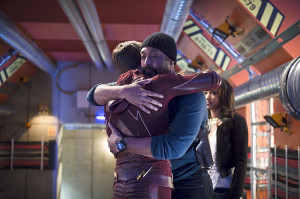 How did The Flash season finale "Fast Enough" do in the ratings?
The initial overnight numbers are in, and the show had a 1.4/5 in the key 18-49 demo and 3.71 million viewers. That's a little bit down from last week but it will surely raise once DVR and other things are factored in. Demographics-wise, the show actually beat Hell's Kitchen on FOX and the NCIS repeat on CBS.
UPDATE: Some additional notes from The CW:
Last night's season finale of THE FLASH wrapped up its epic first season on a strong note, rating as the #2 broadcast show in the hour in A18-34 (1.2/5), and #1 in M18-34 (1.6/8), and M18-49 (1.7/7). THE FLASH also ranked #3 for the hour in A18-49 (1.4/5).
Come talk about "Fast Enough" on our Flash forum!
The Flash Season 1 is already available to pre-order on Blu-ray and DVD (with Amazon honoring any lower price that may come between now and the release date), and from those links you can also purchase past episodes on Amazon Instant Video. The CW plans on re-airing past episodes over the summer, as well.