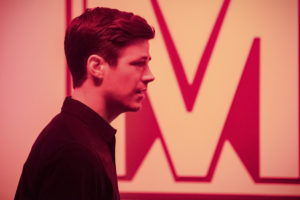 The CW has released official photos to promote the May 12 season finale of The Flash, and it appears that The Flash Season 6 will end with a lot of red lighting.
The season finale is called "Success is Assured" and here's how The CW describes the episode; the gallery of photos can be found in the slide show beneath the description.
"THE FLASH" SEASON FINALE — Barry (Grant Gustin) considers a risky plan to save Iris (Candice Patton) from the Mirrorverse. Ralph (Hartley Sawyer) attempts to stop Sue (guest star Natalie Dreyfuss) from making a grave mistake that could destroy her life. Phil Chipera directed the episode written by Kelly Wheeler & Lauren Barnett (#619). Original airdate 5/12/2020.
THE FLASH
Picture 13 of 13
The Flash -- "Success Is Assured" -- Image Number: FLA619b_0359b.jpg -- Pictured (L-R): Natalie Sharp as Sunshine, Tom Cavanagh as Nash Wells, Hartley Sawyer as Elongated Man and Kayla Compton as Allegra -- Photo: Colin Bentley/The CW -- © 2020 The CW Network, LLC. All rights reserved
After being struck by lightning, CSI investigator Barry Allen (Grant Gustin) awakens from a nine-month coma to discover he has been granted the gift of super speed. Teaming up with S.T.A.R. Labs, Barry takes on the persona of The Flash, the Fastest Man Alive, to protect his city.