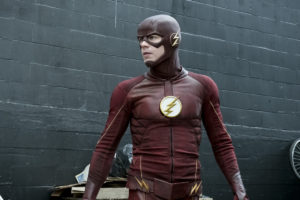 Would you believe it's almost season finale time for The Flash?
Next week's episode, airing on May 23, is called "Finish Line" and it's also the finish line for the third season! The CW aired a trailer following tonight's episode which you can see below; hopefully we will have some official promotional photos soon.
If you've just finished watching this week's episode "Infantino Street" and want to talk about it with other fans, visit our Flash forum!
SEASON FINALE – With nothing left to lose, Barry (Grant Gustin) takes on Savitar in an epic conclusion to season three. David McWhirter directed the episode written by Aaron Helbing & Todd Helbing (#323). Original airdate 5/23/2017.