As previously announced,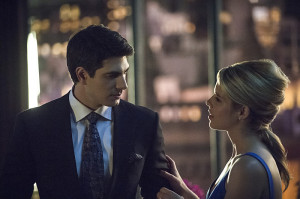 Arrow's Felicity Smoak (Emily Bett Rickards) and Ray Palmer (Brandon Routh) appear in the upcoming Flash episode "All-Star Team-Up," and during a group Q&A today, we asked Executive Producer Andrew Kreisberg about what we have to look forward to, and how they factor into the story.
"At that point, Ray needs a little help with his [A.T.O.M.] suit, and who better than Felicity's high-tech guys at STAR Labs?" Kreisberg says. "It happens to come at a particularly bad moment for Barry. That's partially why we did it. The first episode with Felicity [Episode 4], she really came along at a time when her experience in being part of a crime-fighting team definitely helped Barry overcome what he was facing that week. Similarly, when she comes, he's having a crisis of conscience that in some ways, only somebody like she can help him through."
"It's a really fun episode," he promises. "I hadn't gotten to write much Ray this season on Arrow — I got to write him in the Flash: Season Zero comic book, and I loved it. So, getting to write him… he's just so much fun, and he finds a best friend in Cisco."
"There's even a line in the script where Felicity says 'Ray is like Barry in Oliver's body'," he laughs. "And then went 'Oh, God, did I say that out loud?' And Ray's just – even though he looks like Brandon Routh – he's a big tech geek at heart, so he and Cisco quickly bond. It's a fun episode."
The foe faced by Team Flash and Friends will be The Bug-Eyed Bandit, a known foe of The Atom from the comic books.
Stay tuned and we'll let you know as soon as an air date for the Felicity/Ray episode is announced.