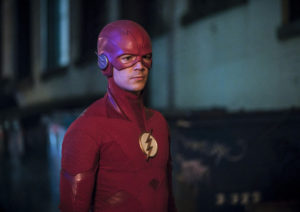 "The Girl With The Red Lightning" is the title of the May 7 episode of The Flash and it just happens to be the next to last episode of The Flash Season 5.
You can find an official description with some minor spoilers below. It's awfully short but it's something, right? Hopefully we will have some photos soon.
CICADA II MAKES HER MOVE – Team Flash is on high alert after Cicada II (guest star Sarah Carter) threatens to unleash a dangerous virus that would put all meta-humans at risk. Stefan Pleszczynski directed the episode written by Judalina Neira & Thomas Pound (#521). Original airdate 5/7/2019.