The CW has released an official description for the May 15 episode of The Flash which guest stars Arrow's David Ramsey!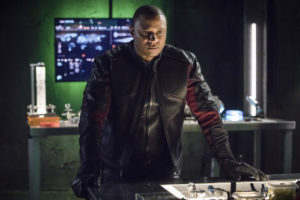 The episode is called "Think Fast" and here's the write-up:
DAVID RAMSEY GUEST STARS — When DeVoe assaults an A.R.G.U.S. facility to complete his Enlightenment Machine, Barry (Grant Gustin) realizes the only way he can stop him is if he allows Cisco (Carlos Valdes) and Caitlin (Danielle Panabaker) to accompany him into the facility. Still shaken by Ralph's death, Barry isn't sure he wants to risk any more of his friends' lives and considers taking on DeVoe solo. Viet Nguyen directed the episode written by Sam Chalsen & Kristen Kim (#422). Original airdate 5/15/2018.