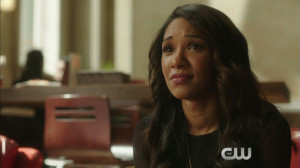 The West family (Joe, Francine, and Iris) shares a scene in the fourth episode of The Flash Season 2, titled "The Fury of Firestorm," and thanks to Mr. Video, we have screen captures from a clip!
As far as we know, the clip has not been posted online yet. The clip features Candice Patton, Jesse L. Martin, and Vanessa Williams.
Enjoy the caps… and if you like them, please just link to FlashTVNews rather than reposting elsewhere. Thanks!