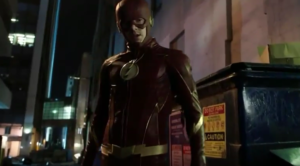 The Flash did pretty well in the ratings last night, especially considering that it was the first new episode in a few weeks.
Final numbers for "The Once and Future Flash" can and will improve, but right now, it's looking like The Flash had a 1.0/4 in the key Ages 18-49 demographic and 2.65 million viewers. What's more incredible about that is, at least as far as the demo is concerned, The Flash came in #2 in its timeslot.
Granted, there were repeats on ABC and CBS, but that means that in the 18-49 demographic it beat every network aside from NBC which had The Voice.
That's pretty incredible.
Meanwhile, over at ABC, a network with a much bigger reach, Marvel's Agents of S.H.I.E.L.D. had a 0.6/3 and only 2.16 million viewers.
Oops.
What did you think of "The Once and Future Flash?" Come talk about the episode on our Flash forum!